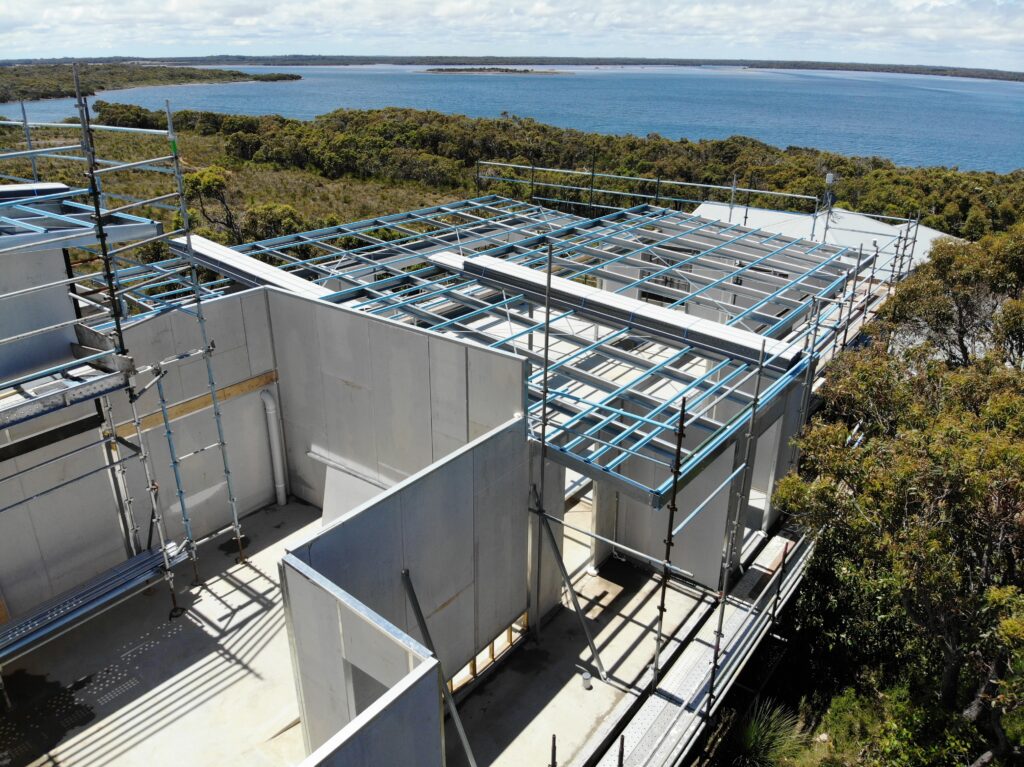 Shemco Building Systems offer a complete service from design to completion that focuses on supplying energy-efficient and simple building and construction systems, tailored to meet client and project objectives. We provide a range of services for any project, from small residential houses to high rise multi-residential apartment buildings.
Design Input and Value-Adding
Assistance and/or Procurement of Architect/Engineer/Builder
Supply or Supply/Install of Structural Insulated Panels (SIPs)
Window/Door Installation, Internal Linings, External Cladding, External Texture/Render
Our focus is on providing a building system that not only meets the clients budget, but provides a host of other benefits important to the client, such as streamlined and simple installation to lock-up process, high thermal and acoustic values and eco-friendly construction.
FastFix
Residential Panel System
The FastFix insulated wall system offers a range of wall systems for easy construction of residentail projects.
InsulFrame
Multi Residential Wall System
The Rockwool wall system offers exterior and interior walls systems for multi-residential projects.
Fast-Fix Panel Installation
This large two storey, 5-bedroom home was built entirely with Fast Fix products, allowing the installation team to start on site soon after the slab was cured, and were able to get the two storey structure to lock up within 1 month without waiting for any other trades. The time-lapse video showcases the simplicity and speed in which the structure of the home in constructed, and provides a complete look at the installation process from start to finish
o It's important to choose the right insulation core for different needs that you may have. The right insulation core would help you get the maximum thermal performance that you want to have. Your insulation core determines the flexibility that your property may have. There are different kinds of insulation core, you may choose between the PUR, PIR, and Rockwool. Whatever choice you make, you need to have the right assistance. This part is where Shemco comes in. At Shemco, you will have the right assistance as we bring you towards the right decision that would fit your needs as a homeowner.
PUR – Rigid Polyurethane – The Rigid Polyurethane Insulation Core helps prevent sound from travelling from room to room. It reduces the entry of heat or cool depending on what the desired room temperature is. Polyurethane foam is used to expand on-site and stay on the expansion. The special properties allow for a safe and effective sound and thermal control that every homeowner wants to have.
PIR – Rigid Polyisocyanurate – The Rigid Polyisocyanurate is what you would usually see in most commercial construction. It brings continuous insulation that is best for temperature control. This materials works best for roofing and wall assemblies.
ROCKWOOL – Mineral Wool – The use of Mineral Wool is one of the most valued materials for roofing and for floor construction. It works best for hydroponic growth medium, filtration, insulation, and soundproofing. It is perfectly used with ceramics and slag.
Whatever material you would want to use, our team at Shemco can provide you with the best experience using the right materials.
SIPS or also known as the Structural Insulated Panels have been around since the early 1900s. Yet, despite being here for almost two decades, made homeowners still shy away from the system. Here at Shemco, we make sure that we use the best SIPS available for our clients. Traditionally a polystyrene core with OSB (Oriented Strand Board) skins is used by contractors. However, our Fast Fix system is purpose designed specifically for walls, floor and roof.


Our system works best when the client tells us what they want. More than the structure and our team's skills, it is important for us that we take into consideration what the client wants and needs.
Shemco can assist any project from design to completion with a wide variety of insulated panel solutions to meet the budget, client requirements, and whatever fits the client's needs. We go beyond the expectations of the clients I making sure that they have the right information for them to make an informed decision. Our services range from providing conceptualization to construction using only the best products that technology has to offer. Not only do we offer a good system in installing walls, floor, and the roof, but we are with you every step of the way


We can supply off the shelf sizes or can supply bespoke shop drawn panels for rapid installation and minimal wastage on site. We can personalize based on what the client needs and make sure that we take into consideration everything that the client's budget can offer. We will never skimp on the necessities. We believe that the client deserves to have the best that our money can offer.